A three-day 'On Yer Bike' cycling challenge has been completed by Sheehan Group Director Michael Sheehan in support of construction industry charity The Lighthouse Club.
Michael joined 49 other cyclists in tackling a gruelling 210-mile route from Leitrim to Killarney which involved 10,000ft of climbing along Ireland's undulating west coast.
Thousands of pounds have been raised by Michael, and the total is set to double with the Sheehan Group matching all donations made up to and including May.
Funds raised will be donated to The Lighthouse Club – the UK's only charity which provides financial and emotional support to construction workers and their families. The charity receives no public funding and relies entirely on the generosity of those within the industry to help continue its vital work.
Michael – a keen cyclist while he is not at work – described the ride as his biggest two-wheeled challenge to date and was pleased to complete the route in aid of a worthy cause.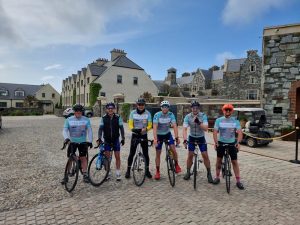 "The Lighthouse Club holds significant value to workers in the construction industry and I was thrilled to complete this challenge and raise important funds in support of its work," said Michael.
"The Sheehan Group has a close association with The Lighthouse Club, which has been there to support some of our former colleagues in previous years. It was a fantastic feeling to cross the line after three hard days of cycling.
"The support of my family, friends and colleagues gave me that extra kick during the final few miles. I'm really grateful to everyone who has made a donation and would like to thank them for their outstanding support."
READ MORE: Sheehan Group is proud to be part of the local community
Typically, Michael's challenge was completed in all forms of the Irish weather system.
But the wind, rain and occasional sunshine never failed to dampen spirits as all 50 cyclists taking part in the ride completed the route.
"As we ticked off various milestones, the ride got tougher," said Michael. "The second day was particularly challenging as it rained, and we were riding into the wind for what seemed like a long time.
"Overall, it was a fantastic team effort. It's no mean feat to get 50 riders from A to B covering 210 miles and climbing 10,000ft without incident.
"The fundraising page will remain open, so it's not too late to support The Lighthouse Club's work. Hopefully the completion of the ride can inspire some last-minute donations."
If you'd like to congratulate Michael by donating funds to The Lighthouse Club, you can visit his Just Giving page by clicking here.