Interlocking concrete blocks are the perfect solution for creating custom storage bays, retaining walls, flood defences, partition and security walls, without the need for planning permission.
They slot together easily, without the need for mortar, thanks to their interlocking technique and they are durable and resilient to all weathers. Interlocking blocks have grown in popularity due to their comparative low cost, ease of build and resilience.
At the Sheehan Haulage and Plant Hire we produce low-carbon interlocking concrete blocks that meet modern day sustainability requirements while retaining durability and quality.
What are interlocking concrete blocks?
They contain large studs which enable them to be interlocked to create walls, which makes them durable and quick and easy to use.
What are the benefits of interlocking concrete blocks?
Interlocking concrete blocks are robust and provide all the benefits of a permanent wall, but with the added benefits of being flexible to enable walls to be reconfigured or moved. They are quick and easy to install and the interlocking solution creates a strong formation. Furthermore, they do not need any fixings or groundworks, which further saves time and money.
They do not require any planning permission, which makes them the ideal solution for storage bays, quick and cost effective.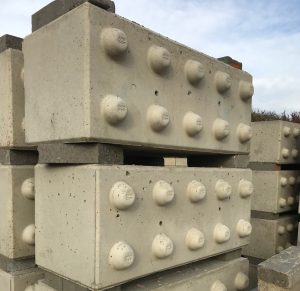 Are interlocking concrete blocks sustainable?
We produce interlocking walls that contain a minimum of 85% recycled material content and are environmentally engineered to meet the requirements of today's values. The raw materials used are precisely selected for their environmental performance and the products fulfil all UK and European technical standards.
Furthermore, interlocking concrete blocks are recyclable meaning the products are be recycled the end of their life span to prevent pressure on landfill and maintain the sustainable nature of the circular driven economy.
All our blocks have a life span of more than 20 years, are frost resistant and produced with materials sourced locally to further reduce carbon footprint. Our products comply with the highest safety standards and are proud members of the Concrete Society and are H&S and FORs accredited. The safety standards include market leading fire-retardant qualities.
What are interlocking concrete blocks used for?
Interconnecting concrete blocks are typically used for the construction of temporary structures and walls. Common uses includes retaining walls, security walls, flood defences, storage bays, fire break walls, silage clamps.
Get in touch
If you would to chat about interlocking concrete blocks please contact our friendly team here.