The general secretary of the UN has issued a stark warning – humanity is killing nature.
In his severe global warning António Guterres said: "Humanity is waging war on nature. This is suicidal. Nature always strikes back – and it is already doing so with growing force and fury. Biodiversity is collapsing. One million species are at risk of extinction. Ecosystems are disappearing before our eyes."
It was his strongest language to date on the climate emergency as he detailed the devastating impact. It includes lost wetlands, deforestation, oceans overfished and full of plastic and air pollution claiming nine million lives a year globally.
Top priority
Amid the gloom Mr Guterres made it clear where the solution lay.
"Human activities are at the root of our descent toward chaos, but that means human action can help to solve it," he said.
"Making peace with nature is the defining task of the 21st century, it must be the top, top priority for everyone, everywhere," he said during his virtual address entitled 'The State of the Planet.'
The UK construction industry is making progress in reducing its impact on the environment. But more can be done on a bigger scale if the industry embraced more sustainable practices and change is afoot.
The government recently announced it will provide substantial funding to help the construction industry adopt sustainable practices, as part of its 'green industrial revolution' to meet the UK's overall ambitions to become carbon neutral by 2050.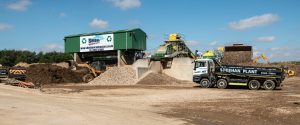 Circular Driven Economy
A recent report by the World Meteorological Organisation found 2020 was on track to be one of the three warmest years on record globally. This is despite the COVID-19 restrictions reducing the volume of travel and other activity.
Many countries including China, the EU and the US have committed to targets of reaching net-zero emissions by around 2050. But what can be done to accelerate change in the construction industry?
Embracing the circular driven economy is one key area that can make a significant contribution to reducing our carbon footprint. It already exists in at least 14 countries and in the UK several circular driven economies are thriving on a micro level.
"With greater government support the circular driven economy can vastly improve the UK's targets to radically reduce carbon emissions," said Tara Sheehan, FD of the Sheehan Group.
"We have seen first-hand the positive impact it has on our local environment and economy and there is now a golden opportunity for it to become a core part of the UK's drive to become carbon neutral."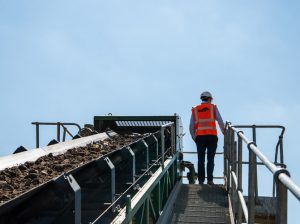 Recycled construction materials
The circular economy centres on materials being recycled and re-used and minimising the transportation of goods.
In the construction industry there is a growing movement in which contractors are embracing using recycled products in building work. At the Sheehan Group we produce recycled construction products via our CDE recycling plant which recycles construction and demolition waste. The water treatment facility washes C&D waste, which saves it from landfill and turns it into reusable materials. The process enables us to produce and sell high quality recycled aggregate, recycled sand, concrete blocks, and ready-mix concrete from waste materials.
By embracing sustainable construction products contractors can help protect the environment by reducing the demand on primary aggregates and saving waste from going to landfill. Alongside this recycling and reusing local waste in a local basis vastly reduces the need for transportation, which reduces congestions on the roads and carbon emissions.
Renewable energy
Embracing modern sustainable technology including solar panels and electric vehicles will also help in the construction industry's challenge to become carbon neutral.
"Achieving net-zero will require a significant shift in the industry," said Tara.
"It will require both public and private strategies and fast behaviour change. Industry collaboration and action will be key to success. Building projects need to become zero-carbon as quickly as possible to reduce the need for retrofitting."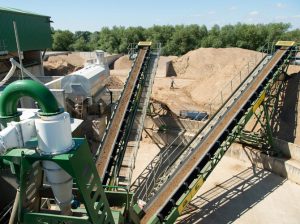 Reduce waste and embrace change
Re-using C&D waste is a simple and effective way to help the construction sector meet its targets.
The Sheehan Group hopes the UN's strong message combined with the government's clear target and financial support will help drive fast positive change. Collectively the construction industry can radically reduce its carbon footprint. Many of the systems and practices required to achieve positive change already exist.
If you would like to discuss how your construction company could embrace more sustainable practices please contact us here.