The circular economy is a concept in which materials are produced to be constantly recycled or re-used.
Covid-19 has been a deep human and economic disaster and our thoughts remain with everyone impacted by the pandemic.
The crisis has starkly highlighted the risks associated with many production and consumption systems that rely heavily on global markets. In the construction industry the existing primary supply chain systems are overly dependent on natural resource extraction and commodities like metals. It has also highlighted how important business networks and supply chains are on a micro level to provide robust systems, support the economy and promote local employment.
Here Tara Sheehan, finance director at the Sheehan Group looks at how the Circular Driven Economy can reignite the economy and develop long-term resilience to handle future challenges.
Over reliance on importation markets
We have seen many other sectors suffer during COVID-19 due, in part, to an overreliance on global markets. This has been highlighted by widespread breakdowns in the supply chains and the associated knock-on effects. It has left many businesses and consumers struggling to source supplies during the pandemic.
In the UK construction industry in recent years there has been a significant demand for stone to help facilitate major building programmes that have been required to meet the needs of an increased population. Demand for natural and engineered stone increased accordingly, and with suppliers offering materials into the UK from countries includes Spain, Portugal, India, and China at cheaper rates importation boomed.
Indigenous stone is estimated to account for about 25% of the market. Many UK contractors source stone from Italy, Spain, Germany, France, while India and China now supply more than half the UK's stone imports.
A robust and broader Circular Driven Economy would improve reusability, repairability, resilience, independence, and competitiveness. Overall, this would reduce the need for raw materials, transportation costs and the associated carbon footprint and so support the drive towards sustainability. The UK construction industry can become more self-sufficient by embracing the Circular Driven Economy.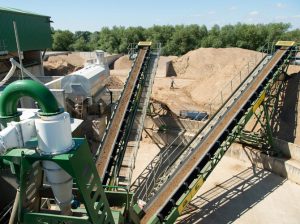 Greater control 
An inclusive Circular Driven Economy is the key to supporting the economy via enhanced local supply chains. Utilising such a business methodology will reduce the over reliance on imported products and empower local businesses to operate with great control.
Aligned to the Circular Driven Economy is the need for more businesses and governments to embrace a broader low carbon economic model. Taken together with a renewed appreciation of how precious the environment is, a shared desire to work in collaboration and a collective desire to build back better it can drive an upturn in the economy.
Employment opportunity 
The Circular Driven Economy has been gradually growing in the UK and by doing so creating local jobs for local people. The government's Employee Retention Scheme and bounce back loans have been crucial in protecting UK jobs. This can now be complemented by the Circular Driven Economy. Initially this will help protect jobs and as the economy recovers create more.
Research conducted by the charity WRAP, the Waste and Resources Action Programme and the Green Alliance in 2015 found that the expansion of the Circular Driven Economy could create more than 200,000 jobs in the UK across multiple sectors. The report found there is a direct and positive correlation between resource efficiency and job creation. This is achieved by retaining improved value within a product by reusing or re-manufacturing it, which generates more jobs. The research concluded between 8 and 20 jobs will be created per thousand tonnes of unwanted products, compared to 5 to 10 jobs for recycling and just 0.1 jobs per thousand tonnes of products sent to landfill. Furthermore, the report stated re-manufacturing creates twice the employment of traditional manufacturing.
Therefore, the Circular Driven Economy can create jobs in regions across the UK and improve the spread of employment, which is currently over reliant on major cities.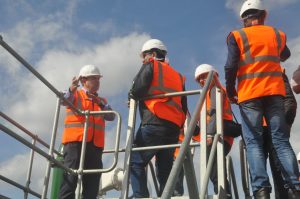 Low Carbon economy 
Prior to Covid-19 the world's consumption of natural resources had reached record levels, but recycling was falling, the think tank Circle Economy revealed. Harald Friedl, chief executive of Circle Economy said governments must "urgently adopt" circular driven economies to maintain living standards and avert the climate emergency.
The warning pre Covid-19 was stark and surely it is even starker now. Therefore, the micro communities that have embraced circular economies need to be celebrated and embraced to encourage the support and engagement needed to drive serious change.
If the Circular Driven Economy is supported, it can also help deliver significant environmental benefits. This spans most sectors and equally applies to food production and distribution, as much as construction, for example. Research by the Ellen MacArthur Foundation found a circular model could lead to a 50% reduction in pesticides and synthetic fertiliser use in Europe within the next decade and create better products. Additionally, the Ellen MacArthur Foundation also reported if a circular driven economy model were applied to agriculture C02e emissions could be reduced 5.6 billion tonnes.
So, you can see, if a circular economy culture were embraced across multiple industries the collective difference it could make to the economy, quality of products, and the environment would be vast.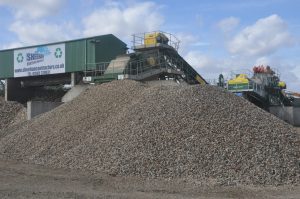 Opportunity for positive change
Covid-19 has forced businesses and governments to re-think and re-design systems. It will require multiple strategies and government stimulus. At the Sheehan Group we have seen first-hand in the past decade the benefits of the Circular Driven Economy and believe it remains the way forward. Like other likeminded businesses we have invested in innovating to create more sustainable business models, via low carbon technology. The Circular Driven Economy has existed for some time, but Covid-19 has demonstrated how important it is. If it is embraced region by region it can enable a stronger recovery and transition to a better way of working, that improves the economy and environment. A win, win. However, to be successful it will require serious buy-in from governments and businesses.
In construction there is a big opportunity to drive real change. With stronger policies every residential and commercial new-build property could be constructed using sustainable materials and technology, as standard.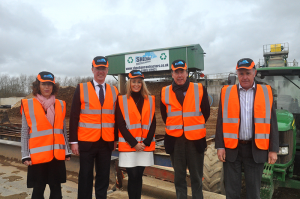 Sustainable construction 
At the Sheehan Group we will continue to act as cheer leaders for the Circular Driven Economy. In 2012 we invested in the installation of a CDE recycling plant that enabled us to produce recycled construction products from construction and demolition waste. The water treatment facility is used to wash construction and demolition waste, destined for landfill, turning it into reusable aggregate. We can make high-quality recycled aggregate, recycled sand, concrete blocks, and ready-mixed concrete from waste materials.
The process reduces demand on the environment for natural resources, by re-creating high quality secondary aggregate and sand from waste. In this period, it has saved 775,000 tonnes of construction and demolition waste from landfill, by reprocessing it into recycled aggregates. The 775,000 tonnes saved is the equivalent of 1,700 Boeing 747 planes at maximum take-off weight.
The collective effort will need to be sustained to have long term positive impact. If it is embraced by governments and businesses in all sectors the positive impact will be significant, combining economic regeneration, improved societies, and a better climate for future generations to enjoy.
We all have a massive opportunity to re-build intelligently and help shift to sustainable practices.