The Sheehan Group will remain open for business during the latest COVID-19 restrictions and we look forward to continuing to serve our customers.
Prime Minister Boris Johnson confirmed construction sites will continue to operate during the latest lockdown, while people who can work from home should continue to do so.
All our sites are open, and our all services and products are available. Sustainable concrete blocks, recycled aggregate, and recycled sand are in stock and available for collection or delivery. Our plant hire machinery services, muckaway and waste movement services are all available. Additionally, our skip hire services, with the usual delivery and collection provision are open.
Our full range of civil engineering services are also operational including site preparation, groundworks, external works, managed works, and reinforced concrete structures.
Tara Sheehan, finance director at the Sheehan Group said: "We welcome the news that the construction industry can continue to operate within sensible parameters. We have demonstrated we prioritise the health, safety and wellbeing of our colleagues, suppliers, partners, and customers always and we will continue to do so.
"We will remain open to serve our customers during this challenging time to ensure the construction industry can continue to perform its vital work. We would like to thank our valued colleagues, partners, and customers for continuing to support us at this time."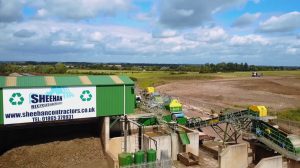 Andy Mitchell, co-chair of the Construction Leadership Council, said: "We have demonstrated that the entire industry depends on the flow of money and materials, and that is it essential that product manufacturers, builders merchants, and distributors keep operating so that we have the materials to build and repair our homes, hospitals and services. It is imperative that his happens."
The Sheehan Group continues to maintain stringent levels of hygiene and health and safety protocols. Social distances measures and enhanced hygiene regimes remain in place at our sites.
We remain committed to the welfare of all our stakeholders and maintaining our usual high levels of customer service. We also recognise the COVID-19 pandemic is an unsettling time for everyone and restrictions will continue for some time, during this period we will do all we can do serve our customers safely and promptly.
You can reach us via:
Tel: 01865 379931 or email: Theteam@sheehancontractors.co.uk