Muck away is classified into inert, hazardous and non-hazardous.
Inert muck away can be defined as soils that have not gone through any chemical, physical or biological processes. Inert muck away, includes brick, concrete, hardcore and subsoil. Other waste can be defined as inert, provided it is tested and meets a waste acceptance criterion (commonly known as a WAC test).
Non-hazardous muck away can be defined as muck that does not meet the inert criterion. This includes a collection of different waste products that are considered not harmful to the environment and human life however do not meet the inert threshold due to low levels of contamination. Where waste does not meet the inert definition, recycling the material is the best disposal option.
Hazardous muck away can be defined as waste that has properties that make it harmful to the human health and the environment. This type of muck can arise from highways, petrol station forecourts and the ground surrounding domestic and commercial fuel tanks.
At the Sheehan Group of companies, we pride ourselves on recycling spoil waste material where possible. All waste spoil that meets the criteria of our permit is recycled into high quality aggregates and sand. These materials are then used as drainage materials and concrete blocks across numerous construction sites.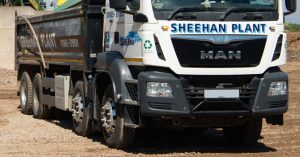 What types of material can Sheehan take?
Sheehan Haulage and Plant Hire's fleet of Oxfordshire based lorries can take a variety of materials, including:
Inert muck, non-hazardous muck, hazardous muck, sludges, sub soils, concrete, hardcore, bricks, rubble, footings, aggregates.
At Sheehan we can manage the disposal of spoil that is contaminated due to hydrocarbons and heavy metals.
What type of Muck Away lorry does Sheehan use?
We have an extensive fleet of Muck Away lorries at Sheehan Haulage and Plant Hire enabling our team to manage any muck or waste shifting project. Our Muck Away lorries are fitted with Euro 6 low emission green technology providing the highest standard for exhaust emissions of NOx and other pollutants. All our Muck Away vehicles are fully compliant with the Fleet Operator Recognition Scheme (FORS).
The type of Muck Away lorry we use depends on the access and layout of your site. Our fleet of tipper lorries are ideal for removing large volumes of waste. However, for sites that are space restricted our skip lorries are a good alternative.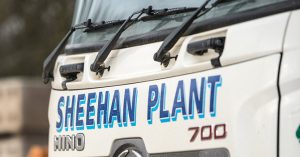 How much waste can be removed?
The Sheehan Muck Away team can remove any volume of waste and will work with you to assess what is required to fulfil your brief. Our tipper lorries, for example, have a capacity of 20 tonnes. The amount of waste you have will dictate how many visits we will need to make to complete your Muck Away project.
What happens to the Muck Away waste collected?
Sheehan Haulage and Plant Hire is licensed with the Environment Agency to collect, recycle and dispose of a variety of waste. We are passionate about recycling and sustainability and if we can recycle your waste we will. If we cannot recycle some of your waste, we will ensure it is disposed of legally and in an environmentally safe manner.
Our recycling centre removes soluble compounds and insoluble contaminants via a robust washing and treatment system.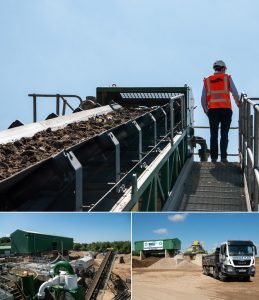 How long does it take to load a Muck Away lorry?
It depends on the size of the machine loading the lorry, if the material is in one large stock pile and is loaded with a 14-ton machine or larger it can take between 5 and 15 minutes to fill an 8-wheel tipper. Our Oxfordshire based Muck Away team will be able to advise you on time scales for your project.
Can a Muck Away lorry operate in a tight space?
Sheehan Haulage and Plant Hire's Muck Away team is experienced in clearing waste from a wide variety of locations. Our fleet of tipper lorries are around 3 meters wide and the tipper can overcome many obstacles, height permitting. Our Muck Away team can even place skips over low walls, fences or hedges using the extendable arm on the lorry. In extremely tight spaces we use a skip and manually remove waste.
Sheehan Haulage and Plant Hire are proud to provide Muck Away services in Oxfordshire for commercial and domestic customers. If you would like to discuss your Muck Away requirements, or would like to know more about what we do call us today on 01865 379931