The construction industry needs to embrace low-carbon construction products and processes to become carbon-neutral by 2050.
Reaching the goal is achievable but requires full adoption of best practices by the whole industry. This means improving planning policy, procurement, training and the use of low-carbon products, materials and systems. A quick-win is using readily available low-carbon products. At the Sheehan Group we have experienced an increase in demand for our low-carbon construction products and materials.
Here is a guide to our top-three low-carbon construction products and materials contractors can use in projects and builds this year.
Quality large concrete blocks
We produce low carbon interlocking concrete blocks using quality recycled aggregate via our CDE wash plant. The concrete blocks contain a minimum of 75% recycled aggregates and are environmentally engineered to meet UK and European technical standards. We use solar power to provide electricity to power the manufacturing plant process to produce all our products and materials.
The large concrete blocks are durable, resilient and have a high load bearing capacity. They have a class 1 fire resistance rating and are freeze, frost and thaw resistant. Furthermore, they provide a sound insulation of 45 RwdB.
The low carbon large concrete blocks are produced at Yarnton, Oxfordshire via our concrete batching plant. Our CDE plant at Stanton Harcourt, Oxfordshire produces the washed and graded aggregates that are used in the production of the concrete block. They are available for delivery to sites in Oxfordshire, neighbouring counties and nationally.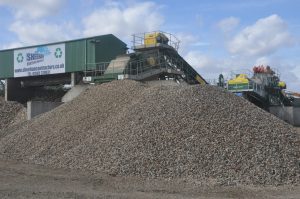 Recycled aggregate
Construction work inevitably involves demolition work, generating waste materials such as concrete and brick. Rather than sending these materials to landfill, they can be recycled and re-used in construction. This reduces the pressure on landfill and the huge strain on natural resources. Additionally, local waste is processed via a recycling process and re-used locally reducing the need for extensive transportation.
Recycled aggregates are widely regarded as being a sustainable construction material. They can be used in various ways and are suitable for construction projects and landscaping. They are safe to use and are as structurally reliable as natural aggregate.
At the Sheehan Group we produce high quality recycled aggregate from waste materials via washing and recycling technology. Aggregates are highly versatile and hard-wearing making them the ideal solution for groundworks including pipe bedding, foundations, temporary roads and hardstanding. Hardstanding is in high demand particularly in the wet weather to help manage wet ground conditions in construction. We provide bagged aggregate from our site in Yarnton, Oxfordshire and can supply in bulk.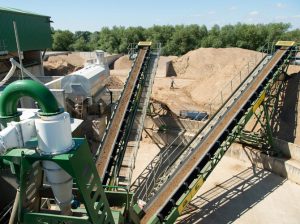 Recycled sand
After fresh water, sand is the world's most widely consumed natural resource. It is the key material in many construction products including concrete, asphalt, and glass and is critical to the modern world.
However, consumption levels, fuelled by a huge increase in global building work, have now reached an unsustainable level. The UN estimates as much as 40 billion tonnes of sand is extracted and consumed globally per year in the construction industry. Around half of all sand extracted goes into concrete. This is putting a significant strain on the environment and placing sand under threat. One solution to this growing issue is using recycled materials in the construction sector.
We have heavily invested in our CDE wet processing plant to produce higher quality recycled sand. By adding another wash to our system, we can produce higher quality sharp sand that has a wide range of high value applications in the construction trade. This this achieved by repurposing leftover soil and aggregate from demolition and construction sites, saving it from landfill and turning it into sand.
Recycled sand is available as an option for contractors to buy as part of our commitment to sustainable construction. By purchasing and using recycled products and materials in construction projects you too can be part of the solution to our global climate emergency this year and beyond.