In the UK, it is estimated the average household produces more than one tonne of waste each year. That's 31 million tonnes in total – the equivalent weight of 100,000 Boeing 777 aircraft.
Waste disposal is inevitable in almost all settings and in many commercial and domestic waste management situations a skip is a cost effective and sustainable solution. Skips help ensure you dispose of your waste in a sustainable way, as the recycling process prevents most materials from going to landfill.
At Sheehan Haulage and Plant Hire we provide skips of all sizes for briefs ranging from small domestic projects to major industrial scale clear outs. In addition to being sustainable skips represent fantastic value for money and are a convenient solution to clearing waste.
Here are five key reasons why you should consider skip hire when disposing of your unwanted waste.
Effective waste clearance  
When waste accumulates, the risk is it can be disposed of in an unsustainable way which can be damaging to the environment.
Many products contain highly toxic chemicals which can contaminate soils and water if they are not properly disposed of. We conduct a detailed waste management processing system which sorts every material in a skip and ensures it is recycled where possible to preserve our natural resources. Equally if your waste contains hazardous materials, we ensure it is managed and processed safely.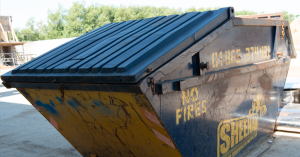 Safe waste management  
Hiring a skip allows you to place your waste in one location. This keeps your waste in a contained and safe place, reducing the risk of injury. A lot of waste creates hazards, if left unattended on site or at home. Using a skip helps to keep your site clean and tidy and your colleagues or family safe.
Professional support
Under the Environmental Protection Act, it is an offence for anyone to:
Deposit waste in or on land unless in accordance with the terms of a waste management licence
Treat, keep or dispose of controlled waste unless in accordance with the terms of a waste management licence
Treat, keep or dispose of controlled waste that could cause pollution or harm human health
Breaches of the legislation can result in a fine or even imprisonment. Working with a skip hire firm ensures you will process your waste in accordance with the latest legislation.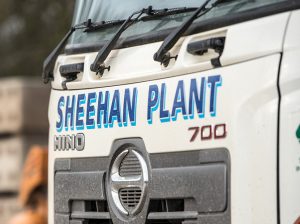 Cost and time effective
Disposing of your waste legally and safely can be a time and cost-consuming process. It can involve multiple vehicles and journeys to a landfill or recycling centre.
Skip hire can save the time and hassle and prove to be cost effective in disposing of general waste, metals, woods, soil and stone.
Circular driven economy
The best skip hire companies are innovative in reusing and recycling every material possible that is disposed of.
At the Sheehan Group we are committed to the Circular Driven Economy by repurposing waste material and reintroducing it back into the supply chain. This process reduces demand on natural resources, the importation of materials and pressure on landfill.
Overall, it helps make the construction industry more sustainable and will be a significant part of the journey to achieving a carbon neutral future.
FAQs:
Do I need a skip licence to hire a skip?
If you want to place your skip on a public road, then you will need to apply for a skip licence before contacting our team. If you would prefer, we can obtain a skip licence for you at no extra cost.
If you want to apply independently, click here for more information.
How long can I hire a skip for?
We are flexible and allow customers to pre-arrange a delivery and collection date, so you don't have to worry about running out of time.
However, it is important to remember your skip must be collected before your skip permit runs out.
Are there items I can't put in a skip?
Hazardous or harmful items cannot be placed into a skip and must be disposed of separately.
This includes asbestos, gas cylinders, animal waste, explosives, batteries, any oils, chemicals, paint and glue, televisions, laptops, phones, electrical equipment, lighting and tyres.
How do I hire a skip?
For more information about hiring a skip, visit our skip hire page by clicking here.