The first student to be awarded the Sheehan Scholarship in Sustainable Urban Development has graduated from the University of Oxford.
Ryan Manton completed an MSc in the subject at Kellogg College and graduated this month having filed a dissertation which explored the barriers to sustainable development in Oxfordshire. The 35-year-old architect is the first person to benefit from the Sheehan scholarship for his two-year course. Sheehan Group plays a large part in sustainable development in Oxfordshire, recycling construction and demolition waste into fresh aggregates, sand and concrete blocks as part of a 'circular economy'.
"It was an amazing help," said Mr Manton. "Education is expensive and I'm not sure it would have been possible to take up the course without it. It was an amazing opportunity."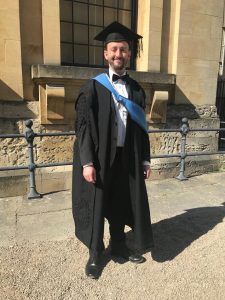 During the intensive eight-week teaching programme, which Mr Manton fitted in around work, students were exposed to academic and industry voices. "It's a very good course that provides exposure to lots of different people, and you come away with a good idea of how things operate in the academic world and in industry," said Mr Manton. "The world of architecture and planning is changing quite quickly. There's a new focus on sustainability."
Mr Manton's dissertation piece, Urban Planning and Construction Waste: Recycling Aggregates in Oxfordshire, was a piece of independent research, but it has relevance to Sheehan's work in the county.
He said: "Within industry, many in Oxfordshire think the planning system is broken. Local communities have objected to plants that recycle construction waste, but it is essential for future sustainable development that recycling can be done near urban centres. Councils agree these should be given permission but only have so much say in the democratic planning process. There's a lot of nimbyism when it comes to creating centres that are 'dirty' but essential to sustainable development."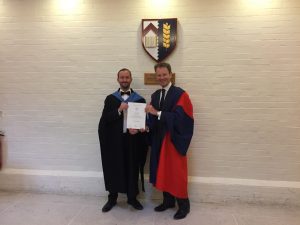 Mr Manton's research found the 'circular economy' of turning construction and development waste into recycled products is being stifled by planning restrictions.
In his dissertation, he wrote: "The research concluded that the industry, both nationally and in Oxfordshire, lacks support from both the government and local communities, and that environmental permission and community objections restrict operators from developing. The recommendations are to reduce bureaucracy, improve resources, and focus on long-term strategic plans in the planning system.
"The waste industry can assist by investing in ways to mitigate the effects of its operations and helping to educate communities in understanding how different uses can co-exist alongside one another, in helping to achieve a more sustainable future."
Tara Sheehan, Finance Director at the Sheehan Group of companies, said: "We recognise our wider responsibilities to sustainable development and as part of our commitment to this we were pleased to be able to support Ryan.
"Ryan's independent research gives the whole industry and associated key stakeholders a deeper understanding of the issues faced by recycling companies."