Sheehan Haulage and Plant Hire is proud to be an accredited member of the respected Fleet Operator Recognition Scheme – FORS.
The FORS accreditation recognises that our entire fleet of vehicles are being operated safely, efficiently and in an environmentally sound manner. Our fleet includes tipper vehicles and various lorries for our recycled aggregate delivery, skip hire delivery and collection, and our muck away and waste contamination services.


What is the Fleet Operation Recognition Scheme?
FORS is a voluntary scheme for fleet operators that is designed to raise quality and service levels within fleet operations, by promoting best practices. The FORS accreditation is an industry recognised mark of high standards of quality. It highlights operators who have been judged to be achieving high standards.
The accreditation, which is reviewed annually, covers the commercial operation of vehicles involved in the movement of goods, services and people.
Why is the FORS accreditation important for customers?
Our FORS accreditation provides you with additional peace of mind that you are engaging a reputable company that uses industry recognised best practice and runs a high-quality fleet operation that is safe and efficient.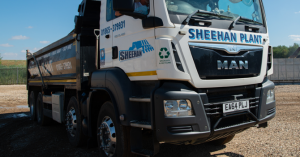 What does FORS accreditation mean for a company?
As a FORS recognised operator, for Sheehan Haulage and Plant Hire it demonstrates our on-going commitment to continued operational excellence, improving road safety and reducing our environmental impact.
Being FORS accredited helps us as a company maintain our high standards, via access to continuous professional development workshops and e-Learning courses. This helps us support our team via on-going learning and ensure we provide an excellent service.
Richard Sheehan, Director of Sheehan Haulage and Plant Hire said: "Three key parts of our ethos are sustainable construction, delivering a first-class service and staff training. Therefore, applying to receive a FORS audit was a logical step for us. We are proud to be accredited by FORS, it is an important movement and any business that has a fleet of vehicles should strive to meet its rigorous standards."
If you require any of our fleet services, including, muck away, tipper hire, or haulage services you can contact us via:
info@sheehancontractors.co.uk or 01865 379931