Sustainable construction company the Sheehan Group has appealed to the industry to embrace recycled products following the news of another UK materials shortage.
The UK Construction Leadership Council has confirmed cement, aggregates, and plastic products have been added to the growing list of essential items in short supply. They have been added to a list that includes tiles, bricks, timber, and steel.
The Builders Merchants Federation and Construction Products Association both warned high demand for construction products combined with supply issues mean challenges will get worse in the short term. A shortage of raw materials was cited as part of the problem.
Following the stark warnings, the Sheehan Group appealed to the construction industry to adopt sustainable recycled materials to reduce the strain on natural resources. The Oxford based company is encouraging contractors to source local recycled products and supplies to reduce the UK's over reliance on global supply chains, improve the environment and support local jobs.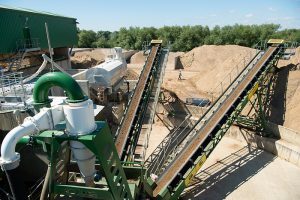 Tara Sheehan, finance director at the Sheehan Group, said: "This is the latest challenge the UK construction industry has been hit with due to an over-reliance on the global supply chain. It is leading to contractors struggling to obtain materials and hampering our economy at a time when the country needs to bounce back.
"The Circular Driven Economy is key to long term sustainability for the construction industry and our environment. By more construction companies embracing its core principle of keeping resources in use for as long as possible it would help make the UK market more self-sufficient, protect the environment and jobs.
"The UK is over reliant on raw materials and imported products. But we can take greater control by using recycled materials. We produce recycled aggregate, sand, concrete and blocks which are used in construction projects and have seen the benefits first-hand."
The Sheehan Group have a water treatment facility which is used to wash construction and demolition waste, destined for landfill, turning it into reusable aggregate and other products. Half of the recycled material is used in its own construction projects and the rest is sold to contractors.
Tara Sheehan added: "As an industry we now have a massive opportunity for positive change via well establish sustainable practices. Not only will it significantly benefit the industry's zero carbon targets, but it will also prevent shortfalls in the supply chain."